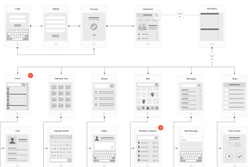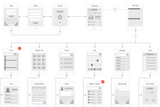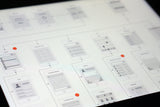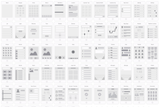 Mobile App Visual Flowchart
Architecture and flow for mobile apps
Save Time
Just drag-n-drop elements from our template to create beautiful flowcharts in minutes, not hours.  
Mini Wireframes
The flowchart template comes packaged with 66 fully customizable mini wireframes, along with gesture icons and common elements.
Impress Clients
Help your clients and team understand a product's flow and general layout before moving to design and development.
If the format you've selected is...
Sketch: Most recent version of Sketch for full functionality.
Illustrator: For use with Adobe® Illustrator® or other applications capable of editing EPS files.
OmniGraffle: Recent version of OmniGraffle.
AdobeXD: Adobe XD CC
Adobe and Illustrator are either registered trademarks or trademarks of Adobe Systems Incorporated in the United States and/or other countries. OmniGraffle and Graffle are trademarks of The Omni Group. 
The Basics
The license gives you or your company the right to use the Product in personal or commercial projects for yourself, clients or others. The Product cannot be resold or redistributed on its own, or used in another product offered for free or for sale where the Product becomes the core value. Each license covers up to one user. Contact us for multi-user licenses.